notes on the West Highland White Terrier
This sturdy, hardy, compact little terrier has a two inch all white coat that is uncurled with a soft, dense undercoat. They have bright, dark, deep-set eyes with a penetrating gaze. The ears are small, pointed and erect, giving the animal an alert ready-for-anything look. The tail is carried jauntily, is about 5-6 inches (121⁄2-15cm.) long and should not be docked. It has a deep chest and muscular limbs. The Westie has a short, closely fitted jaw with scissors bite, a pronounced stop, and slightly convex skull.
West Highland White Terriers are described in the standard as being "possessed of no small amount of self-esteem with a varminty appearance." This game and hardy little Terrier is easy to train. They are fairly friendly toward strangers and get along well with behaved children. Westies may snap when irritated, but are not as willful as many of the other Terrier breeds. They are lively and extremely self-assured toward other dogs. Westies usually do not pick fights with other dogs, although some males are combative with other males. They may chase a cat for fun, but usually will not hurt it. Robust, friendly, cocky and spunky. Westies just love companionship. Despite its size, they make a very good watchdog. These little dogs are easy to travel with. The Westie likes to dig and bark.
In the middle of the nineteenth century, it happened that the breeder of the Cairn Terrier in the country of Argyll, Scotland got some white pups in his litters. Those pups were selected and bred to obtain the West Highland White Terrier, which is simply a white Cairn. Westies were originally bred for controlling the population of rats, fox, otter and other vermin. This charming terrier is now mostly a companion dog.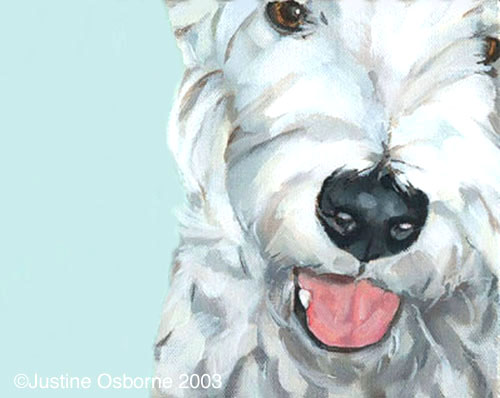 "Mack" - Portrait of a West Highland White Terrier
Oil painting on canvas 8" x10"
(gallery style canvas)
for more portraits and other dog breeds -
visit the dog painting gallery